The second most downloaded campaign ever for Age of Mythology

The time has come. At long last the greatest fantasy saga ever created has made it's arrival on the Age of Mythology engine. We, the modders and mappers of Liquid Fire Studios are proud to present the highly anticipated first part of Lord of the Rings: Legends of the Third Age, The Fellowship of the Ring.
In this long-awaited campaign, the player follows the adventures of the nine members of the Fellowship in their quest to destroy the One Ring. The scenarios are made to the highest quality by some of the best designers in the community, and will lead the player from the sweeping rural hills of the Shire to the deepest depths of Moria to the wooded ruins of Amon Hen. Complex map design and amazing eye candy will keep gamers coming back simply to watch the brilliantly created cinematics. Even more fantastic is the completely original soundtrack created by a true genius at his craft. From Rivendel to Mordor, Legends of the Third Age: The Fellowship of the Ring brings Middle-Earth alive like never before.
Aside from the excellent scenarios, The Fellowship of the Ring boasts what may be the largest and most expansive modpack in Age of Mythology history. Each weapon is authentic, and gamers will feel the fires of the Balrog and hear the crack of Gimli's axe. Each face of each hero is authentic and detailed, as is every structure in the many exotic Middle-Earth locales. The mods were made by legends in the Age of Mythology community, and the quality does show.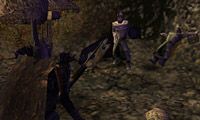 Without anything farther, we would like to thank you, the community, for your support and patience with this project. We are confident that you will enjoy it, as all of our work is directed at you alone. Thank you.
—Legends of the Third Age Design Team, Liquid Fire Studios.